Chapter 2: Reviewing the Biological Nature of the Five Elements
I'll be going back to China for the Beijing Olympics and I'd like to take this last opportunity to exercise my constitutional right to the freedom of speech before a communication brown-out. As some of you who travel to China know, some websites, specially non-Chinese news, is blocked. Ironically, it gives you a very welcome respite from a type of "
Opium
of the People," as the communists would say. Even many Americans would agree that they are sick and tired of watching American news propaganda, sick movies, worthless sitcoms, and they are intoxicated and drugged by tons of junk mail, annoying music, solicitations, flyers, billboards and the like. It even patches up your wallet from cable fees, magazine subscriptions, indirect franchise-fees, theater tickets and other payments to the "
drug lords
."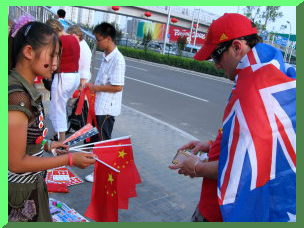 "Drugs" can delude you. Indeed, to be in Beijing's Forbidden City during the Olympics can feel a bit crazy. I guess that's what the Olympics is all about—ironically competing and cooperating simultaneously. I wonder if the Ming emperors ever wondered if foreign "barbarians" from all over the planet, friend and foe alike, would ever gather here together as "One World," even for only a few days.
The notorious walls that barred foreigners and foes are seemingly vanishing. Even President Bush will be in my ancestral home to save the world from himself. The last time I felt his personal presence was when he visited Metro Manila years ago. I'll also be dropping by Shanghai to observe the "jet venting hole" through the World Financial Center, currently the tallest building in the world (spires aside), in the race for King Dong. Hopefully,
Murphy's Law
will also decide to take a break. Then, I'll be flying to Xiamen, to visit my paternal grandparents who recently moved there to escape the harsh winters of Beijing, where they used to live. It will be a fine respite for me too, before going back to Hong Kong and Macau.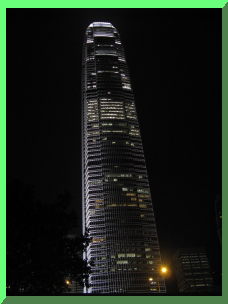 This gives me an opportunity to think about the past and the old stories that my maternal grandmother used to tell me. She used to say that we were related to the
Last Emperor "Henry" Pu Yi
, but, filial piety aside, I think she may be deluded, or at the very least, mistaken. I think she conceived this error by thinking that Pu Yi is the emperor's surname. My Manchurian maternal great grandfather "Edward" Yii was a Beijing diplomat under the early republican government who was assigned to head a Southeast Asian consulate. He served the Chinese consulate during World War II and was imprisoned by the Japanese during the occupation years. Sadly, he died in Fort Santiago, but after the Japanese surrendered and withdrew, he was honored with a 21-gun salute. The communists, however, eventually took over China after WW II, and the nationalist republican government had to flee to Taiwan. Grandma couldn't go back to China.
I think grandma did not realize that when the people called the
Last Emperor
, Pu Yi, they were calling him by his first name instead of his regal name to mock him. For the Chinese, calling a high ranking individual by their first name is disrespectful. Grandma must have thought PuYi was his last name, not his given name. But here I am, going back to Beijing where my ancestors came from, fortunately not related to royalty, and still enjoying a commoner's life.
Delusions are a sad thing, since it can be harmful. Maybe, that's even an understatement. I watched
Christian Bale
as Batman again a few weeks ago, and I remembered how some Hong Kong residents reacted last year while
Chris Nolan
was shooting some scenes there, specially where Batman jumps from the top of the pointy 2-IFC and crashes into it with views of the buildings near Victoria Harbour. Nolan wrote to the residents of those buildings, urging them to keep their rooms illuminated the whole night to accommodate the late night shooting scenes for a more spectacular view of Hong Kong. Most residents, though, were indifferent and did not comply with Nolan's special request. Some "green" Chinese environmentalists even condemned Nolan for wasting energy and
destroying the planet
.
Maybe some Chinese remembered the
1960s Batman
who sported tights like
Superman
, wearing bikini briefs over, instead of under, his pants. Maybe they thought, "When men like to wear tight fitting clothes and emphasize their underwear, doesn't that make them gay? Isn't that something that gay men do when they run along the streets of San Francisco or
Sydney
during their parades? Don't gay men love to wear tight leather pants and body-fit leather jackets in downtown Toronto? Don't they love to wear gay masks during the
Venetian Carnivale
? And isn't there something that they're hiding that we need to know? Look up in the sky! Is that a bird, a queen, or Superman?"

Sure enough, when I actually watched the
Dark Knight
during its opening day on July 17 in the Philippines, my hunches were confirmed.
"...Parang Bading...(like a fag)," said a woman next to me while Bale dressed up in front of Michael Caine.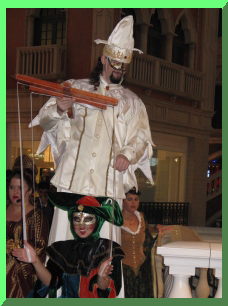 Maybe that's why
Ang Lee
did so well in
Brokeback Mountain
with
Heath Ledger
portraying a closet queen, but did so poorly with the
Incredible Hulk
. It seems to confirm my theory about the four primal elements. The
free preview
of my third book,
Sync My World
, shows an oversimplified brain illustration labeling the "Far left" (White), "Center Left" (Yellow), "Center Right" (Brown), and "Far Right" (Black), which corresponds to the "races" and their characteristics. The Left is "rational," and the Right is "emotional." Of course, it seems so politically incorrect. Hence, I did not include everything in Sync My World's introduction. But at this point, with the death of Ledger, who played the
Joker
, through an "accidental" psychiatric drug overdose, after the production of the
Dark Knight
, although hesitant as I am, I think it would be inappropriate not to include it, since Ledger's sacrifice would be in vain if it were omitted.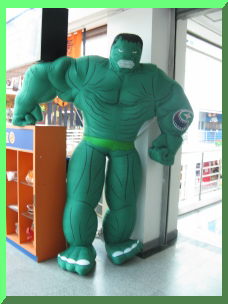 Since the "Far Left" and "Right" are extremists, they are pendulum swingers. They tend to have characteristics on the opposite side every now and then. In other words,
Whites
are "gay,"
Yellows
are "male,"
Browns
are "female" and
Blacks
are "lesbians." Of course, there is an infinite amount of combinations, and these are approximate descriptions of characteristics displayed by the "races."
After all, how could a straight Taiwanese man, like Ang Lee, know anything about gay white Americans? Or how to act it properly? You simply exaggerate a European American's manners relative to everyone else's. An outside observer would notice this more like a fish out of water. While in water, fish never know what water is because they are not mindful of it. How many Americans are aware that when they admire Superman, they are subliminally admiring a man in gay attire, like admiring a participant in a gay-pride parade?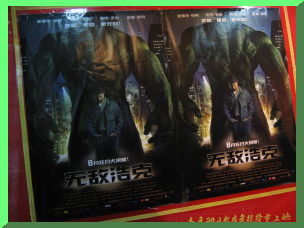 Relative to everyone else,
Whites (Fire)
are
fashionable
. They like to wear tight-fitting clothes. They greet each other by grasping each other's hands, pumping their arms or hugging and kissing each other's cheeks, even if they are both male. Whites are vivid in art, whether visual or performing, and their art is more colorful. They are more sociable and they converse relatively in a loud and gay manner. They possess
sculptures of naked men
, even
idolizing one that hangs from a cross
. They are good in flattery and spin. When they make movies, it is full of variety, with special attention to gender-neutral (children's) markets, revolving around fantastic "gay" themes,
spread through subliminal marketing tricks, like bacteria, viruses and contagious diseases
, feared by the Yellows, who build "Great
Red Firewalls
" against it, just like protecting a forest (Wood) from
wildfire
.
Yellows (Air or Wood)
, next in line, are "male." They greet each other by
bowing
or through the hand-over-fist bow or with the curled-prayer salute. They dress sloppily, favoring loose clothes like pajamas. They are relatively comfortable discussing disgusting matters and are relatively dull or unsettling in art, unless they are "mixed" like the Japanese. Their color palettes don't match up properly. They are blunt and are awkward socially. They are not good conversationalists, but are rational. They never get tired of creating
Kung Fu movies
, and love to see fighters endlessly killing each other. Their food is sometimes presented with the head, tail, claws, tentacles and other undesirable parts intact. They may be uncomfortable with Whites, just as men are uncomfortable with gays.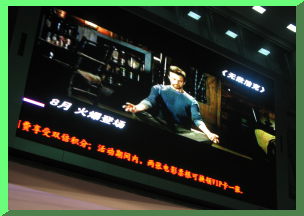 On the other hand,
Browns (Water & Space Ether or Metal)
are "female." They greet each other with the
straight-finger prayer salute
, palm-on-forehead bow,
nose-pressing
or other intimate displays of affection. They have great difficulty carrying their emotional baggage and cannot live without their relationships. They like to talk and gossip and are relatively more comfortable being with the Whites and Yellows since females are comfortable being with gays or men but not necessarily lesbians. Although they usually prefer "gay" or "pseudo-gay" characteristics, specially for "good times" and "dating," they may eventually commit to "males" for practical reasons. They are relatively better caregivers. They create movies about relationships. Boy meets girl. They fall in love, but their parents are disagreeable, or there may be some type of love triangle, or they must overcome some type of persecution. Of course, on occasion, there must be a
dance number
in the end!
Lastly,
Blacks (Earth)
are "lesbians." Some of them greet each other by kneeling (female) or prostrating (male); others bow slightly, slide palms or shake hands. They like native things. They seem to have female characteristics since they are smooth, nimble and relatively talkative. However, they're
athletic
. They are usually not in the limelight, but they may be political. They are also better known for their verbal skills. Hence, their movies are limited. Yellows may not be threatened by them, just as males are not alarmed by lesbians, unless the lesbians are in competition with them. But Browns may dislike them. And Whites may only join them if necessary, specially if they have to rally for their democratic rights.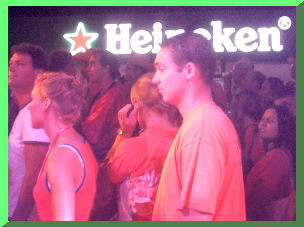 As you can see, the harmony and conflict relationships illustrated in the introduction to
Sync My World
, using the five-pointed star or
Pentacle of Kung Fu Tzu
(Confucius), can similarly show the relationships between the four Colors. The relationship star or stars is traditionally used in national iconography or corporate trademarks. The color relationships, for example, are visible in white ("gay") America, through President Bush. He had a relationship with Saudi Arabia's ("pseudo-gay")
Bin Laden family
which turned sour. Bitter about that relationship, ("gay") Bush tries to score on a difficult "gay-to-straight" relationship with China's Hu Jintao. But he eventually may become disappointed as usual and settle for a more traditional and elegant
"gay-to-gay marriage" with Europe
. (Fire melts Metal, feeds on Wood, thrives in an inferno, but is extinguished by Water and Earth.)
Conflicts also arise as a result of delusionary views toward preferences. For instance, Western business processes usually involve what I call
gayification(TM)
. You can buy a rotten male-lived house for a low price. Then fix it up, paint it with harmonious colors and decorate it. Buyers will be attracted to it and you can raise the price and strike a profit! You
gayified(TM)
the house. You can do the same thing with a car, a business process or even the entire business itself. Now, just because this works for business and entertainment, some people think that the whole world should be gayified. Governments, cultures, you name it. And if they don't, tough sanctions would be enforced on their straight necks! After all, isn't the earth called
Gaea
?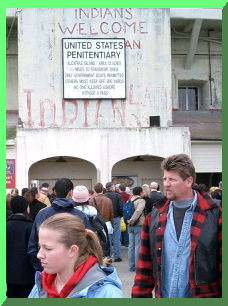 But what these people forget is the way nature works. Not everyone likes peach, fushia pink and baby blue. Some like indigo. Some people like lime, tangerine and cyan. Some like it all black. Others, earthy beige, forest green and chestnut brown. What is "better" is a matter of preference. Although usually, the most common preference is considered "best." Consequently, people fight endlessly and engage in
"great" Alexander
-like forms of "sodomy," thinking that the "best" should overcome the "worst," not realizing that the spectrum of "best" and "worst" are relative and will never disappear. They
waste their energy
.
These are, of course, generalizations and cannot be used precisely. There are always exceptions. (The final scenes of the
Dark Knight
suggest a superficial recognition of a "gay,"
Two-Faced
American democratic system. It would imply that although a single-minded Chinese-style authoritarian system is imperfect, the Chinese system is relatively more beneficial. The relationships of the four "races" and the four genders also suggest that the "gay" two-faced nature of Whites and Brown males (
Space Ether or Metal
, "feminine males" or "pseudo-gays" ) is prone to harmful behavior, or even acts of terrorism at worst. But due to a multitude of other factors, including the
Uncertainty Principle
, it is not always true.
Brain bio-chemical
processes function at the
quantum level
, resulting in variations. Browns have sometimes resorted to a maternal society, as opposed to the paternal society of Yellows, to promote "single-mindedness" because Brown males are inconsistent. They invented the "3 Rs," but they have also resorted to various forms of "cannibalism." Ironically,
"Cannibalism" and terrorism
result from taking the self-image or the relational world too seriously. Abrupt changes are
deva
stating. Remember, the "pseudo-gay" invented the idea of "sacred sacraments," including Holy Communion and Marriage, through Iranian Mithraism and the like, later copied by the "gays" through the
Catholic Church
. Don't forget too that the
brain chemicals of love
can be equivalent to the hallucinogen
LSD
. Schizophrenic symptoms such as the Cloud-9 and "Angels and Demons" effect can be simulated by falling in love. Partnerships between the "male" Yellows and "female" Browns to produce stability have been sought after, but without the "gays" and "lesbians" in the picture, it cannot succeed, just as Wood rots when soaked. It needs some sunshine and soil to survive. Creating harmonious chemistry with a beneficial relationship diagram, however, is difficult at best and impossible at worst. It is not as simple as drawing the Olympic Rings, although to achieve it is the Middle Way. Not a vain uncertain pursuit like multi-dimensional
string theory
or CERN's
super collider
. Nor a permanent fusion like "gays" and "lesbians." But a separable practical partnership as
"male" and "female,"
with their family,
friends
and
acquaintances
. It's common sense.)
These characteristics are indeed dark. Heath Ledger's
Joker
portrayal in the
Dark Knight
shows the extreme side of "gays," specially if they are "closet queens." Some people may think that his case is entirely environmentally caused, as he explains with his dagger. But there is a more "sinister" biological, astrophysical cause.
Art is related to deception, and deception to banditry and militancy. Art is all about fooling the senses. Something ugly can be portrayed in a beautiful manner such as the way Hollywood produces "true" stories. The opposite is true, such as the way Senator Obama was wickedly
caricatured
by the
New Yorker
. Consequently, groups such as the Taliban or philosophers like Plato, oppose art. This is also why the Chinese communists used to oppose advertising, which is the forte of gays, because the people could be robbed by businessmen. This is also why they block some non-Chinese media broadcasts to China. One man's news is another man's propaganda.
Seeing a
Coke
commercial may also make you feel good or viewing a Pepsi ad may make you thirst for it. Presentation is the key, or rather, the "trick." A "magnificent sculpture" such as a Trojan horse could sack your city. A lovely lass may elude security personnel. The media could picture a "third world" country to look worse than a "first world" country, even if in reality, considering all things, it may be equal or even better occasionally. Hence, the
Buddha
, mindful of the drug pushers and addicts of India, advised "
Right View
" as a key step to personal freedom, since our perception can deceive us.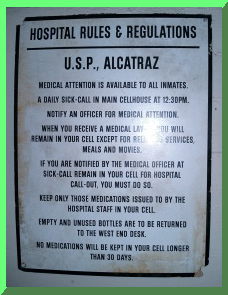 Many times, you suffer because of delusionary views. you may think that something is better than another, but it is basically
identical
. You may think, for instance, that you are extremely superior to a fruit fly, not realizing that
flies share almost 60% of human genes
. And a chimp's genes? It's at least
94% identical
to yours!
You may also believe sometimes that you are being intelligent, rational and reasonable. But intelligence is related to autism, and even to the symptoms of Down's Syndrome. Yellows sometimes achieve wonders historically, then suddenly shut themselves up and act irrationally.
In addition, Browns may become slaves to their relationships. They may never know how to live for themselves. And Blacks may feel they are persecuted all the time.
Everything in the universe is yin and yang with its varying degrees. You are not hurt by what you see, feel, hear, smell, or taste, but how you perceive and think about it. And if you free your mind from delusion, you can sleep better. Honestly, it's easier said than done, but it's better than being a doctor's dope!
This is
Heath Ledger's
note to you. Remember him every time you visit
Ronald McDonald's
restaurant, the global American icon. Remember how enigmatic and
sick it is
. Today it entertains and satisfies your cravings. Tomorrow,
it kills you
. Remember
Ledger's
deadly sacrifice to deliver this message. And remember, America doesn't need your pity. Nor your compassion. Just your benevolent understanding. May he rest in peace.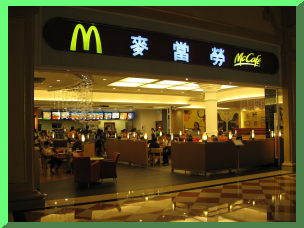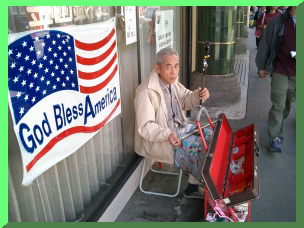 Black/Lesbian Voice:
"There is some good in the worst of us and some evil in the best of us. When we discover this, we are less prone to hate our enemies."
-- Martin Luther King, Jr., African American Civil Rights Leader, Nobel Peace Prize Recipient, 1964
Brown Female/Female Voice: "...Parang Bading...(like a fag)"

--Voice of the Malay woman in the Movie Theater, in response to the Dark Knight's "pseudo-gay" side

Voices of Yellow/Male and White/Gay in Conversation:
"That's better, eh? You almost swallowed half the river!...What's your name?...I'm Tintin..."
"I am Chang Chong-chen...But...why did you save my life? I thought all white devils were wicked, like those who killed my grandfather and grandmother long ago. During the War of Righteous and Harmonious Fists, my Father said."
"The Boxer Rebellion, yes. But Chang, all white men aren't wicked. You see, different peoples don't know enough about each other. Lots of Europeans still believe that all Chinese are cunning and cruel and wear pigtails, are always inventing tortures, and eating rotten eggs and swallows' nests...The same stupid Europeans are quite convinced that all Chinese have tiny feet, and even now little Chinese girls suffer agonies with bandages designed to prevent their feet developing normally. They're even convinced that Chinese rivers are full of unwanted babies, thrown in when they are born. So you see Chang, that's what lots of people believe about China!"
"They must be crazy people in your country!!"
--Herge, Belgian cartoonist in The Adventures of Tintin: The Blue Lotus (a Shanghai opium den), first published as Le Lotus Bleu in the Brussels magazine Le Petit Vingtieme, 1934-5.
Voice of I AM:
These voices, the voices of the five genders and "races," are remarkably equivalent to the objective account in my first book,
Little Voices
--The voices of Inoe, Tanga, Oobola, Feelsoree and Ulol, respectively. The analytical spectrum, present in everyone's mind that I discovered thanks to the Chinese, enabled me to analyze my personal mind spectrum just like CERN's supercollider--a very objective analysis since I did not realize this until several years later. I'm now confident that this gender-"race" analysis is more or less accurate. The
gay, lesbian, bi
, male and female world demographic proportions are even roughly similar to world "race" demographic proportions where Yellows and Browns (at approximately 35% each) are the most populous just like male and female, both considered to be the most "normal" due to a majority vote, and approximately 15% each for the two groups at the extreme sides of the "bell curve." This symmetry is obviously not coincidental, and it is a strong argument for my astrophysical theory. Indeed, it is undeniably true that we cannot separate ourselves from others since every "race," gender and class is a
part of ourselves
, even the
animals
, which are sentient beings as well. We all belong to an
integrated web
. Thus, the Buddhists say, "there is no Self, there is no Other." Your "True Self" is dynamic, interconnected and impermanent, always changing depending on circumstance and time. And like light, appearing as only one color, unless it travels through a
prism
, the mind is actually composed of many colors. It is also like sunlight passing through atmospheric water droplets after a storm, producing a
rainbow
. And it searches, somewhere
Over the Rainbow
, for the
Wizard of Oz
, who might be able to balance out its elements and bring it back home to reality. Truly
enlightening
!
--Rodney St.Michael
Premise:
I will be using my gender-"race" astrophysical theory as a premise in the fourth installment--
Sync My World: Thief's Honor (Ren Qing) GA SK
--of my pentology, which is now in the
Air
stage. The orientations of all the systems in the world are based on this premise. As I mentioned earlier for example, the American democratic system is a "gay" system while the Chinese authoritarian system is "male." This is true for political, religious, social, economic, military or other systems, including language and
writing
(
pictograms
versus sounds).
Evolution
moves through the "genders" in pendulum oscillations toward
equilibrium
and rest. For instance, my book starts with the
"Lesbian/Black"
version, followed by
"Gay/White,"
"Female/Brown"
and
"Male/Yellow,"
as it normalizes. Then if it is jolted, it moves back and forth again, which is why the old Western evolutionary model of a "chimp" ascending to "
Java Man
," "
Peking Man
" and culminating to White man is now
obsolete
. The
latest genomic research
indicates that Yellows descended from Africa, passed through the genes of all "races," including the
Albino
-like mutant who settled in Europe and bred with others to form Brown man (like
Obama
) and Yellow Man (like me). Yellows did not descend from "Peking Man" (the extinct
Homo Erectus
) as originally thought. Consequently, there is technically only one race--all living humans descended from an African
Homo Sapien
, which developed into five "gender breeds," having another five genders within each "gender breed." Of course, there are five "minds" within each gender. Indeed, there is
no such thing as 100% Chinese
, only 100% "Everyone." It turns out that
Whites
were caught again cutting the
Ascent-of-Man Queue
and have to move back in line. Of course, just as men assimilate gay culture, such as sporting an
Italian suit
or
Western haircut
or organizing European-styled
weddings
and
banquets
, "male" systems or other "genders" also adopt traits from others, moving toward equilibrium, unless the cycle is disturbed.
Origin of Super Red Underwear & Cape:
Some of you may be wondering how
Siegel
&
Shuster
, the creators of Superman in 1932, conceptualized the idea of
Superman
emphasizing his red underwear. Just like the story of
Cinderella
, it may have all started in China. According to ancient Chinese legends, a man-eating beast, called
Nian
, attacked Chinese villagers regularly and terrorized everyone. But one day, a brave eccentric old
Buddhist monk
, who laughed all the time, discovered that he could frighten Nian away by flashing his
red underwear
, creating loud noises and perhaps showing a bit or two of his
martial-arts prowess
. Consequently, villagers concluded that Nian was red-phobic and started painting the town red. Eventually, every Chinese New Year, the people would wear red or adorn objects with red to keep away the essence of "evil" or "bad luck." This idea caught up with the whole country, and even today, the Chinese follow this tradition, using fireworks to symbolize "loud noises" and a "lion" dance (
2 men under a lion-like costume
) to symbolize Nian, the bearer of "bad luck," turned to "good luck" after the monk tamed it. Indeed, it reminds us of the eternal moral, that in order to be successful in life, sometimes we need to step out of our comfort zone and be a little eccentric. This principle is very useful in business, specially in marketing and sales. Hence, some Chinese small business owners, specially restaurants, sometimes display an odd-looking idol of the old monk, who was eventually deified and is now called the
Laughing Buddha
.
Posted on Friday 01 of August, 2008 [10:43:14 UTC]